May 26, 2018
I first met Dr. Prasanta Banerji in 2011 at a Homeopathic conference in Toronto, where he and his son, Dr. Pratip Banerji, presented their work on the Banerji Protocols. It was my first exposure to this kind of non-traditional use of homeopathic medicine. I was truly enraptured by this pair of doctors – they exuded gentleness, brilliance, energy and a passion to help others. I was intrigued by their work and wondered if it was possible – could there be such simple and elegant solutions to help large amounts of people at once?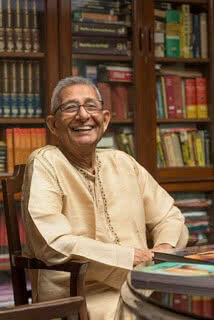 For those who are not familiar with the Banerji Protocols let me start at the beginning (where I perceive it to be, I am not as well versed as I should be, so I apologize if I make some errors). Dr. Banerji comes from a line of great people. His great grandfather Ishwar Chandra Vidyasagar, was an exceptional scholar, polymath, and humanitarian. He introduced the practice of widow remarriage to Bengali society, helping to raise the status of women. It is with that same spirit that Dr. Prasanta moved to Calcutta at the age of 25, with a mission to help everyone, regardless of status or wealth. As he explained to me he had his practice during the day, where he charged people for his services, and in the evenings he opened a free clinic. No one came to see him during the day, but people arrived in the thousands in the evenings to his modest clinic in a market.
It is those thousands of devoted patients that gifted him with the experience and knowledge to formulate the Banerji protocols. Over many years of experience and observation he started seeing patterns, certain remedies at specific potencies seemed to be very effective for specific pathologies - a huge departure from traditional homeopathy based on individualization and understanding of the entire symptom picture. Over time Dr. Prasanta and his son Dr. Pratip built an incredible clinic – visited by 1200 patients daily. Their most famous protocol, for brain tumors, has success rates unheard of in conventional medicine.
I approached the doctors about coming to film their work as part of my documentary and they very kindly agreed. Avijit Sen, their clinic manager was incredibly welcoming and supported us in all our endeavors. We were given free reign of the clinic, we could speak to anyone and film anyone who gave us permission. We were walked through their extensive databases and taken to their night clinic, in the same location Dr. Prasanta first opened in Calcutta. The daily dedication I observed was unparalleled. Early in the morning Dr. Prasanta would do home visits of patients who were too weak to come to the clinic. He would then head to the Elgin Road clinic and see close to 100 patients a day, with no breaks for lunch. After one of these extraordinarily busy days, the doctors spent hours with me as I interviewed them about their work, history, and research. They were gracious despite the late hour, and provided me with some of the greatest quotes from the film, expressing the importance of patient focused care and the love of practice as humanitarian work.
Dr. Prasanta Banerji will be missed for his groundbreaking work, done with love, passion, dedication and a mission to help the needy. He was physician to beggars and presidents, and his legacy will live on.
Dr. Banerji was a passionate supporter of the Magic Pills project and features prominently in the documentary. If you want to share the story of the Banerji Protocols please consider hosting a screening of Magic Pills. A portion of the proceeds will go to homeopathic advocacy promoting investigations into this healing modality. Be part of the movement to create a truly evidence based conversation about homeopathy.
As we believe in giving various perspectives a voice, we may publish ideas we don't necessarily agree with, therefore the views of the authors do not necessarily reflect the views of Magic Pills, Ananda More, or Phosphorus Films.